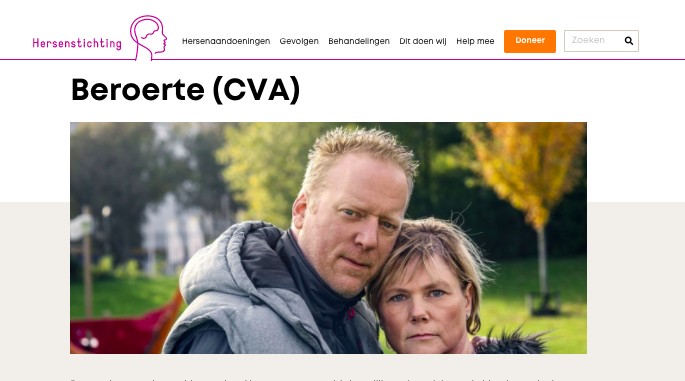 The prefrontal cortex of the brain was full of activity as the final decision was made. "We need a new design for our website. And it needs to be relevant for all our stakeholders."
The brain is the most complex organ of the body. It functions to process information and to control every aspect of the body, from DNA formation to dancing in a nightclub. The Dutch Brain Foundation (In Dutch: Hersenstichting) is an organization that serves predominantly to decrease the number of people suffering and dying from brain damage.
In the Netherlands, it is estimated that 1 in 4 people will suffer from brain disease during their lifetime. With over 100 recognized brain diseases with overlapping symptoms, it can be difficult to identify which brain disease a person is suffering from without professional expertise.
In line with their goal, the main priorities of the Dutch Brain Association are the following:
Funding research projects
Acquiring sponsors and donations
Raising awareness about brain diseases
Communicating information about brain diseases
Encouraging those suffering to seek support
Diving deeper, the real complexities lie in the delivery of the details.
"Funding is necessary, but where can we get it?" "We provide information about over 100 brain diseases, but who needs this information and why?" "Who are our stakeholders, and what are they hoping to achieve through our website?"
With this in mind, ContentKings was contracted to provide a solution for the Dutch Brain Foundation.
We chose ContentKings partly because of their vision on customer jobs. These "stakeholder issues" were the core of their proposal. This vision on customer jobs in task analysis had an immediate appeal to us.

Lisanne van Daalen de Jel
Online marketing and communication consultant
Let's start with an easy question: "who are the relevant stakeholders?" This question is the most important as it allows a comprehensive framework to be built, with sections that cater to specific stakeholder(s).
We identified a plethora of stakeholders, grouped in the following categories:
Those suffering from brain disease
Carers of sufferers
Patient organizations & representatives
Researchers
Healthcare professionals
Organizations around healthcare professionals
General audience
The Analysis
The first step is to identify the customer jobs of each stakeholder. In doing so, we gain insights as to what tasks the stakeholders are hoping to achieve. We found a total of 11 customer jobs.
We discovered the customer jobs through a combination of our custom method of task & desk research, focus groups, and patterns observed through visitor search history. Through these insights, we observed similarities between the customer jobs of different personas.
Customer Jobs
One of the customer jobs that we identified was the need to recognize a (potential) diagnosis. Visitors would search for information on the website hoping to find information and advice on whether they or someone they know could be diagnosed with a particular disease.
Another customer job was the need for advice on how to take care of someone who has been diagnosed with a brain disease. Family and friends of patients, as well as healthcare professionals, would benefit from this information in their interactions with the diagnosed person.
The Solution
We found a solution that was able to cater to both of these tasks. First, we created a standardized template within which information could be structured in a consistent format. From this template, a source file was created for each of the 100+ diseases.
Researchers would validate the information on the source at regular intervals to ensure the claims and advice remain relevant and accurate. The source file serves as a foundation for the information published on the website. The published text could then be quickly and easily updated once new information was discovered.
In doing so, visitors would be empowered with answers to their questions as well as the knowledge and insights to be able to recognize the correct signs and ask the right questions.
An example brain disease page is structured as follows:
In English, this translates to:
What is a stroke?
How do you recognize a stroke?
Stroke causes
Tips
Stroke treatment
What are the consequences of a stroke
How to reduce risk
After the "What is a stroke?" section, there is a warning that urges calling the emergency number for help if you or someone else is suffering a stroke.
The tips section has three taps with tips directed to specific stakeholders, for quick access to the information they need.
The tips above provide information for
carers and loved ones
healthcare professionals
colleagues, employers, UWV & company doctors
The Results
The Dutch Brain Foundation launched a new, more structured website. The information on the website is more accurate, more relevant, and updated more frequently. Navigating the new website is also much easier, allowing for quick access to critical, potentially life-saving information.
What makes ContentKings so nice to work with is that they not only think alongside us but are always a few steps ahead. They are real sparring partners. They identify solutions for issues and bottlenecks long before we even see them coming. Combining our expertise with theirs is like adding 1+1=3.

Angelique Roeland, project leader Hersenstichting
Also want to improve the performance of your website and team?
Schedule an appointment!